Hyundai Santa Fe vs Honda CRV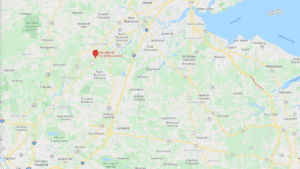 Do you even need a car? For the majority of people living in the greater New Jersey area the answer is a resounding, yes. Beyond transportation, just living in the northeastern united states brings about many of its own unique circumstances. In the summer, it's scorching hot and the temperature can reach triple digits. In the winter it's freezing cold and the weather can bring inches of snow. We live through it all and those of us who reside in the northeast, we want vehicles that can handle it all.
The newly redesigned 2019 Hyundai Santa Fe is just that vehicle. With its new look interior and exterior, new two-row design, and abundant safety features, the 2019 Santa Fe is the definitive car for the northeast.
How to Pick a Car for Your Lifestyle
Selecting a vehicle is a difficult decision for purchasers to make, even the most cursory of analysis will indicate long-term effects on your finances and lifestyle. Before committing to a purchase, some things to consider are the car's drivability, cabin space, fuel consumption, maintenance fees, prices of spare parts, and overall reliability. A more flexible budget will also have you looking into various models and possibly even differing years of manufacture.
Beyond this, the resale value of a vehicle should be considered as well. With boosted customer confidence in their products over the last decade by offering long warranties and continually increasing the quality of their vehicles, Hyundai cars tend to hold good value with subsequent ownership. By concentrating on becoming a good value proposition in a crowded marketplace Hyundai has largely been successful.
Here we will take a more in-depth look at the Hyundai Santa Fe Vs. the Honda CRV. Read on to find out if Honda or Hyundai has the better vehicle. You may be surprised at the results.
Price
Hyundai and Honda vehicles are both very comparatively priced. Each Hyundai car and SUV offer similar starting MSRP as its rival Honda models, the Santa Fe vs. the CR-V being no exception. Despite the comparative pricing, Hyundai guarantees their vehicles far longer, offering a five-year/60,000-mile basic warranty and a 10-year/100,000-mile powertrain warranty on all models.
Safety
On the whole, Hyundai and Honda vehicles perform very well, with most earning near-perfect safety scores. Both the Santa Fe and CR-V have a multitude of standard safety features including, driver and passenger frontal airbags, front side-impact airbags, side-impact head airbags, front seat belt pretensioners, front wheel drive, height adjustable front shoulder belts, plastic fuel tanks, four-wheel antilock brakes, traction control, electronic stability systems to prevent skidding, daytime running lights, rearview cameras, available all-wheel drive, crash mitigating brakes, lane departure warning systems, blind spot warning systems, rear cross-path warning, and driver alert monitors.
Each is vehicle is exceptionally well-equipped with safety features and both are made with driver safety foremost in mind.
Engine
Both vehicles offer very similar engine performances. The CR-V having 190 horsepower and 179 pounds of torque, and the Hyundai Santa Fe having a horsepower rating of 185hp and 178 pounds of torque. The Honda is a 1.5-litre turbocharged four-cylinder engine, whereas the Santa Fe generates its muscle from a naturally aspirated 2.4-litre DOHC four-cylinder. This would likely be the determining factor of a purchaser regarding engine choice; a naturally aspirated engine vs. a turbocharged engine.
Reliability
Hyundai vehicles are more reliable than Honda's, with every vehicle from the Korean automaker earning at least a 3.5 out of five predicted reliability rating from U.S. News. In contrast, Honda has three vehicles (including the 2019 CR-V), that have received a 3.0 out of five rating.
Warranty
Hyundai guarantees their vehicles longer, offering a five-year/60,000-mile basic warranty and a 10-year/100,000-mile powertrain warranty across the board. Most Honda vehicles come with a three-year/36,000-mile basic warranty and a five-year/60,000-mile powertrain warranty. These types of warrantees are average numbers for the automotive industry.
Conclusion
No matter what vehicle you decide on, visit Hyundai of South Brunswick for the best purchase prices and lease deals on both, new and used vehicles in the New Jersey area!